Local flavors
A preserved nature, an exceptional climateand a quality agricultural activity are the advantages of our region to cultivate the art of good things thanks to the know-how of our producers. A wealth of local products found on market stalls and showcased by many local restaurateurs.
Some examples :
The emblematic speciality of the region is the tourton, a tasty stuffed shoe that can be enjoyed both in salty (potatoes, meat, etc.) and sweet version (prunes, raspberries, apples).
Ravioles, oreilles d'âne (a gratin made of wild spinach leaves that, when ripe, look like donkey ears, accompanied by cream and pasta) or potato pie are also found on high-alpine tables.
Produced in integrated or organic agriculture, apples, pears, peaches and their by-products such as juices, compotes, jams, nectars, pies, etc. are also fully part of local products.
► Find recipe ideas a little further down.

In Gap :
Wednesday morning all year long : place de la République
Friday afternoon all year round: organic market - avenue Jean Jaurès
Saturday mornings all year round: pedestrian zone and Place aux Herbes
In Jarjayes :
Tuesday from 6pm to 8pm in June, July and August - castle park
In La Saulce :
Sunday morning from April 1st to September 15th - church square
In Tallard :
Tuesday and Friday mornings all year round - place Commandant Dumont
Where to buy our local products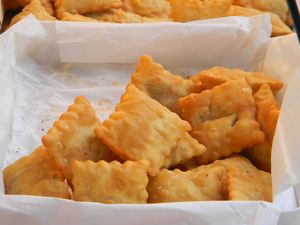 Ingredients :
For the dough: 1kg of flour, 250g of fat (butter + oil), 3 eggs, ¼ L of water, salt
For the stuffing: 150g of leeks or 1 onion, 1.5kg of potatoes, grated gruyère, 1 St Marcellin, sour cream, salt and pepper.
Cook the peeled potatoes in salted water. Fry leeks or onions finely chopped in butter in a frying pan. Knead for a long time. Put the flour in a fountain, add the eggs, fat, salt.
Purée the potatoes, then add the leeks, cooking material, grated gruyère, sour cream, St Marcellin, salt and pepper.
Break the dough, roll it out. Place stuffing balls (1 teaspoon) on half of the dough, spaced a few centimetres apart. Fold the dough down, detail the turtles with a roller. Weld the edges well.
Cook for 5 to 10 minutes on deep frying.
To be enjoyed with local raw ham, Champsaur ravioli and a good green salad!