Gap's heritage
Gap, the prefecture of the Hautes-Alpes, nicknamed the Sweet Capital of the Southern Alps, is located 100 km south of Grenoble and 180 km north of Marseille. A strategic position in the heart of the mountains!
Monuments in the heart of Gap
Far from be to English:]eing able to make an exhaustive list of the richness of Gap's built heritage, we suggest you discover some ideas of places to visit during your stay in Gap.
Feel free to deepen your discovery with our guided tours!
The Cathedral
The first cathedral church was built on this site (Place Saint Arnoux) in the 5th century on the ruins of a Roman temple dedicated to Apollo.
Over the centuries, several buildings followed one another until the current monument was built between 1867 and 1905 by the architect Charles Laisné. Dedicated to Notre-Dame de l'Assomption, it was classified as a historical monument on August 9, 1906.
The use of stones of various colours from 41 different quarries gives a majestic look to the whole building, where Romanesque and Gothic styles are mixed.
The mosaics of the alley and the choir were made by Gian Domenico Facchina in 1892, who designed the facades of the Opéra Garnier in Paris.
The Chapel of the Penitents
A place of worship that has become a mythical concert hall for its incredible acoustics, the Chapelle des Pénitents has a special atmosphere... between history and modernity.
The Town Hall
The first communal house was built in 1400 on the current site of the Town Hall. The construction of the belfry overlooking the building dates back to 1407. Destroyed by the fire caused by the Duke of Savoy's troops in 1692, the building was rebuilt according to the plans of the architect Lechat and finished in 1743, as indicated by the Roman numeral inscription under the balcony. The facade and interior staircase of the Town Hall were included in the additional inventory of Historic Monuments on 29 November 1948.
The coat of arms of Gap
The coat of arms of the town of Gap consists of an azure-coloured shield, surrounded by two golden branches, one of oak and the other of laurel, and surmounted by four crenellated turrets. The latter correspond to the four gates of the 15th century rampart - Colombe, Jaussaude, Lignole and Saint-Arey - which allowed people to enter the city. Inside the shield is the city gate, from which protrude four other turrets, two crenellated and two covered, which correspond mutually to the two governments of the city: the Civil Power and the Ecclesiastical Power.
The choice of colours is also not insignificant - blue for the azure sky of Provence and gold for the sun that had just gilded the city wall.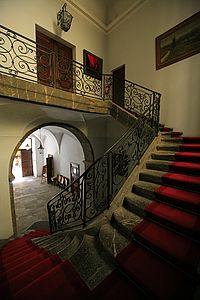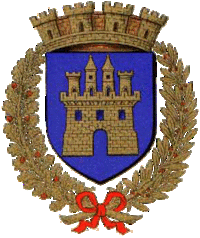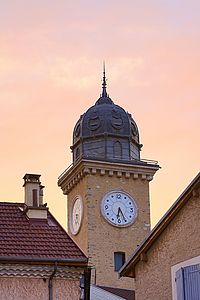 Randoland: a fun visit to the historic center for children!
Toutourisme: The heritage of Gap is accessible with doggies, except the cathedral and the departmental museum.