Cycling & mountain biking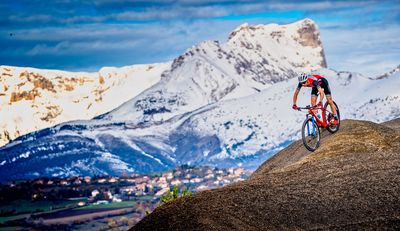 "Our territory is a great playground for mountain biking, whether you are a beginner or an experienced rider. The variety of landscapes, from the plains to the mountain peaks, allows both a playful approach for family rides, or more sporty to ride with friends on technical and challenging courses.
It is thanks to the richness and the beauty of the landscapes of our valleys that I discovered mountain biking and that I became a high level sportsman.
I am proud today to be one of its ambassadors."
- Stéphane TEMPIER
The Hautes-Alpes and Gap are a land favorable to cycling practice thanks to its climate, its landscapes and its passes.A wide choice of itineraries departing from our valley.
→ A new mountain biking guidebook is available for sale for 2 € in our Tourist Offices: tips, good addresses and 16 marked routes to (re)discover our trails. Guidebook in French.
Consult the topo online Download the free pdf version of the topo

→ Use the marked paths for your safety and respect the direction of the routes.
→ Do not overestimate your abilities and remain in control of your speed.
→ Be careful and courteous when overtaking or passing other hikers, as the pedestrian has priority.
→ Check the condition of your mountain bike and plan for refreshments and repair accessories.
→ If you go alone, leave your route to those around you.
→ Wear a helmet and protection appropriate to your practice.
→ Take with you a repair kit, a first aid kit and a detailed map of the route.
→ Be aware in advance of the difficulties and the distance of the chosen route.
→ Find out about the weather conditions before setting out on the mountain.
→ Respect the highway code in all circumstances.
→ Respect private property and cultivated areas.
→ Pay attention to agricultural and forestry machinery.
→ Close the gates.
→ Avoid wild picking of flowers, fruits and mushrooms.
→ Do not disturb the peace of wild animals.
→ Keep your litter, be discreet and respectful of the environment.
→ Be well insured, think of the Pass'Cyclisme FFC.
Where to rent a bicycle or an electrically assisted bicycle?
While travelling through this TOPO, you will discover the Grande Traversée des Hautes Alpes and its variants, taking the most beautiful paths and crossing the typical landscapes of the Hautes Alpes. These itineraries are labelled Grandes Traversées VTT by the French Cycling Federation.
Topo on sale in bookstores and specialized stores.
Discover one of the GTA stages, and discover breathtaking landscapes!
Cross the Pre-Alps by mountain bike on two routes from the Rhône Valley to the Southern Alps and from the Vercors to the Mediterranean, i. e. more than 1000 marked kilometres.
Our valley is an essential stop on the mountain bike routes, linking Grenoble to Sisteron, Valence to Gap and Gap to Sisteron.
One of the departures is from Lac de Pelleautier/La Freissinouse. The route continues on Sigoyer/Les Guérins, then on Barcillonnette and Esparron, 32 km of discovery of our valley.
Red markings.
Leaflet available from the BITs of Gap and Tallard.

For cycling or mountain biking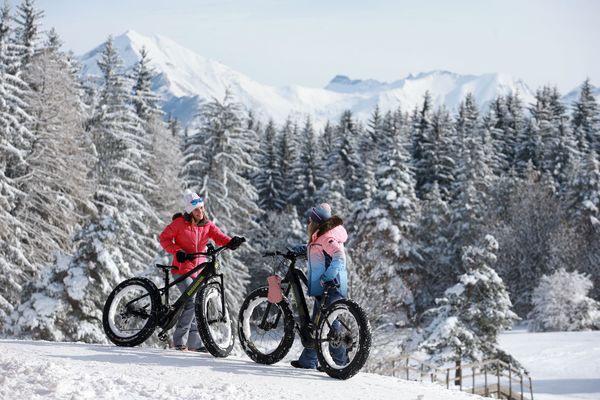 Let yourself be charmed by the fatbike
Want to get away from it all? Summer and winter, come and discover the Gap Bayard ski area and its many activities.
The electric fatbike is a fun activity adapted to all. These new mountain bikes with big tires have been designed to ride on snow, but they are also all terrain (road, path, mud...)
You can easily discover the pleasures of mountain biking in the middle of nature, ride along the many trails that surround the Gap Bayard plateau and enjoy the magnificent views.
► 6 electric fatbikes are available for rent in summer and winter for 1 hour,
1 half-day or 1 day. 3 possible itineraries from Gap-Bayard.
Reservation at +33 4 92 50 16 83.
What is the Accueil Velo label? This is a national label reserved for establishments located less than 5 km from a bicycle route. In order to receive the label, these establishments must have equipment adapted to cyclists, such as a repair kit. It guarantees a quality welcome and services along cycling routes for visiting cyclists.
Our two Tourist Offices are certified!
Our partners with the Accueil Vélo label